Monthly Roundup – October 2020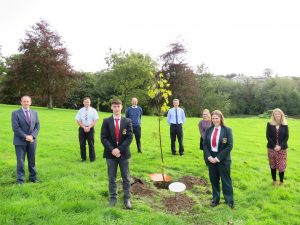 LC 2020 Graduation
The school held an online graduation service on September 24th for the LC class of 2020. This was an opportunity for the school to say farewell to a remarkable group of young adults who have contributed so much to the life of the school and who faced the most challenging of final years. Earlier that day we were delighted to welcome back Nathan Clarke and Sophie Reilly who performed their last duties as Head Boy & Girl be partaking in a tree planting ceremony to mark the occasion.
TY Awards
On October 1st we held the annual TY Awards ceremony in the school. This acknowledged the great achievements of the TY class of 2019/20.  Congratulations to our 'Spirit of Transition Year' winner, pictured below. Meanwhile the 'Overall TY pupil of the year award 2019/20' and the accompanying Wesley Anderson shield was shared, Rebecca Cherry & Louise Hastings both scoring identical grades & merits. The prospect of attaining these awards has been an excellent motivation for our transition year students since their introduction many years ago.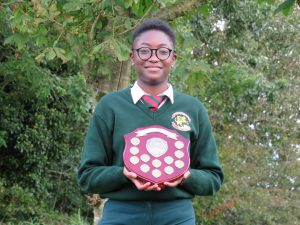 Deputy Head Boy & Girl
Congratulations and best wishes to Ben Ritchie and Rebecca Cherry who assume the roles of Deputy Head Boy and Deputy Head Girl. They will assist Head Boy Jamie Dugdale and Head Girl Katie Dunne this year.
Transition Year News
The TY Class of 2020/21 are well settled into their new year. Covid restrictions have meant some changes this year but the school is still endeavouring to provide as rounded and exciting programme as possible.
Michelle Harding from 'School of Life' delivered an Etiquette workshop. They enhanced a number of skills relevant to the workplace and life in general. Things such as tying a tie, setting a table, creating a good first impression, customer care, and much more.
This was a programme where students developed leadership skills concentrating on themes such as listening, adopting a positive attitude and respect. Students will now be certified as facilitators and hopefully can deliver the programme themselves to younger pupils.
Young Enterprise
The Entrepreneurial spirit in the school continues to thrive. This year we have 9 mini companies in TY and 5 in First year. These students will all participate in the National Student Enterprise awards this year.
Charity Donation
Many thanks to the current 2nd year pupils who ran mini companies last year. Despite their business experience being cut short in March, they remained determined to donate some of their hard-earned profits to charity. This month they donated €300 to two local charities, Down Syndrome Ireland and Cavan Palliative care. Well done to all concerned.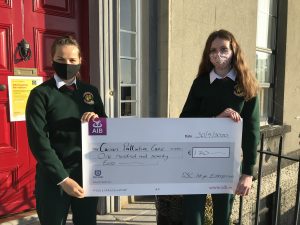 Covid 19 regulations
We would like to thank all pupils, staff, parents and the whole school community for their continuing forbearance and support while we implement all the necessary Covid 19 regulations within the school.