Monthly Roundup – April 2021
Welcome Back to School
At the time of writing, we have been delighted to welcome back our 5th and 6th year pupils to the school. We very much look forward to being able to welcome the remaining pupils also after the Easter holidays. This school closure has been very challenging for the whole school community; however, we are most grateful to all the pupils, parents, teachers and ancillary staff who have all worked together to ensure that while the school doors had to shut, the education of our pupils very much continued.
Past Pupils
We were very pleased to hear that a past pupil from the class of 2020, Rachel Alexander was awarded an entrance award to Trinity College in recognition of her fantastic academic achievements last Summer. We also welcome back past pupil Mr. Joshua Hall, who joins the teaching staff as a PME student for the remainder of the school year. Joshua will be teaching History and Geography.
PE Hall Development: We are delighted to report that an invitation to Tender for an Architect and other Design Team Consultants was placed on e-Tenders. The closing date for applicants is 9th April 2021.
Cavan Student Enterprise Awards
These awards moved online this year with a virtual ceremony. This did not take away from the rigorous level of judging of our mini company entrants (pictured). RSC were once again very successful. In the Junior category we claimed the two top prizes. 'Masks of Many' came 2nd while the overall winner was 'The Natural Bubble', ran by 1st year sole trader Ava Jackson. In the Senior category 'Always There Bear' won a special prize for best social media marketing, while the overall 1st place was claimed by 'Epoxy Designs'. This group was made up of TY pupils, Christopher Clarke, Daniel Bernatos, Charlotte Moore & Olivia Moore. Both 1st place winners will now prepare to represent Co. Cavan in the National Student Enterprise awards in May.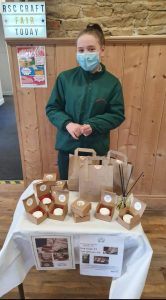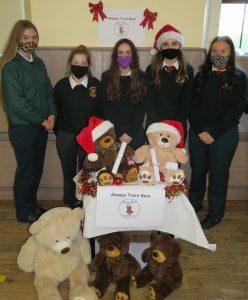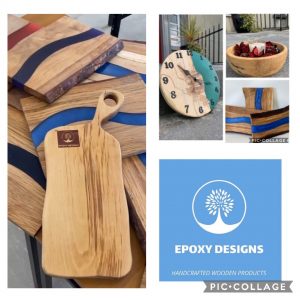 Creative Engagement
Creative Engagement Annual Exhibition took place online from 4th – 5th March. The aim of the Creative Engagement programme is to encourage students' creativity, initiative, and expression through arts in education projects. Our Transition Year students 2019-2020 developed a mural called 'Through the Journey, Seize the Day' (pictured). This mural was showcased at the exhibition. Our students worked with local artist Colette Kearney. Through various workshops they explored their connection with the school through the lens of Wellbeing and then developed the beautiful mural that symbolises inclusiveness, creativity, and an open mindset to life.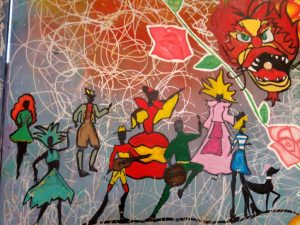 TY Activities 2021
The Transition year pupils are continuing to enjoy a very busy year, despite the pandemic restrictions. As well as their regular curriculum, over the last number of weeks they have had the opportunity to engage with the following: He@lthfest 2021 (focusing on physical and mental health), Sign Language lessons, Science workshop, Photography talk and competition, online Concussion course, Microsoft Dream Space Engineering workshop, SHINE Festival, University and Colleges Open Days and webinars. Some pupils have also enjoyed the Science of Food camp at TU Dublin, RCSI Mini Med programme, Peer Ed (delivering lessons to first years about bullying, self-esteem, mental wellbeing, alcohol, smoking, drugs). As you can see, TY is still a really active and varied year!