Monthly Round Up – March 2019
School Bank
Congratulations to the School bank, Connect 6 (pictured) who were placed in the top 8 in the country in the recent AIB Build a Bank National Final in the RDS. Together with running a school bank the group ran several initiatives around wellbeing and positive mental health in the school throughout the year called 'Backing our school'. They won a special award in the RDS for all the great work they did in this area of mental wellbeing. The group contained Ben Reilly, Katie Dunne, Jamie Dugdale, Katie Griffith, Tosin Elegbede & Ewan Garland.
Amber Flag
Through the great work of the school bank, TY and the Student Council the school will receive a Pieta House Amber Flag for creating healthy, inclusive environments that support mental well-being and eradicate the stigmas associated with mental health issues.
Barcelona
The RSC biannual European trip is currently taking place. 25 pupils will visit the beautiful city of Barcelona where they took in sights such as the Sagrada Familia, Montserrat and Parc Güell. They also travelled to Portaventura theme park. Thanks to Ms McElwaine for organising this trip.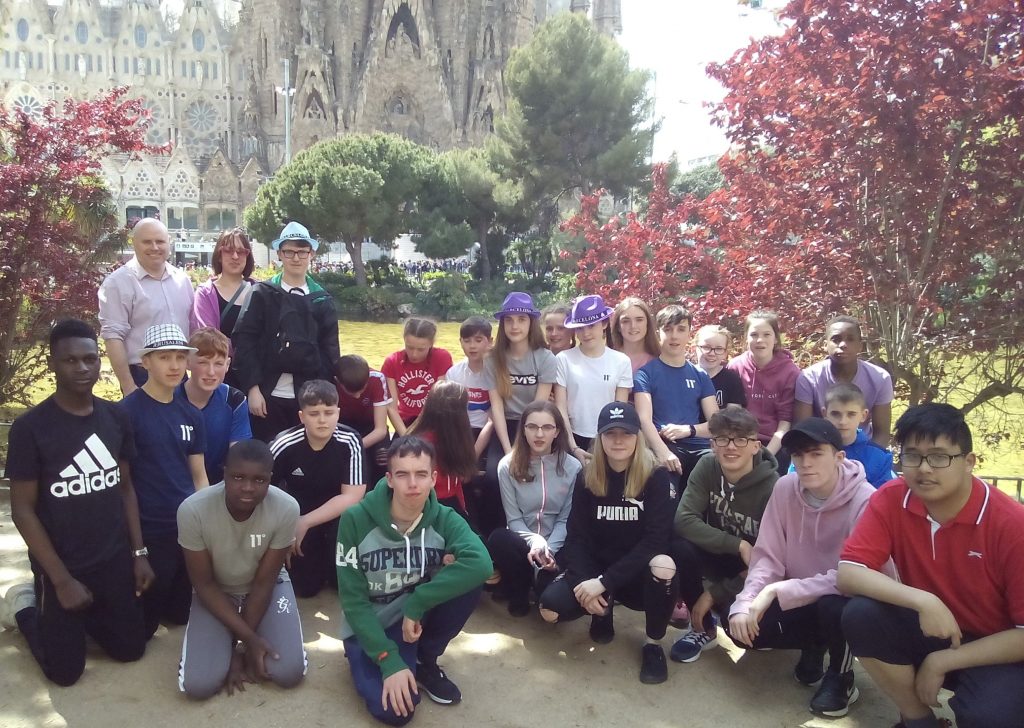 School Concert
The RSC Music Department held a lovely lantern lit Spring concert in March to showcase the talent within the school. This was well attended, and a follow up Summer concert, 'Festival in the Field' will take place in May.
Library Refurbishment
The Library is currently undergoing a refurbishment using funds raised by the Parents' Association and the Student Council. It will be a peaceful, multifunctional study space available to all pupils when finished. To this end the Student Council have organised a whole school sponsored Fun Run to take place during Active Schools week in early May.
TY photography exhibition
The TY Photography module are honoured to have an exhibition of their work on display in the Johnston Library, Cavan.
Cavan Hockey Shield
On Saturday 23rd of March the Royal School welcomed Cavan Hockey club to the school to contest the annual Cavan Hockey Shield match. After a close game with a lot of great hockey played the Hockey Club prevailed after a penalty shootout and retained the shield. Thanks to CHC for a great game and their continued support of the school.
Zoo Trip
On March 20th, our 3rd year C.S.P.E class together with Mr. Patterson and Ms. Trenier went to Dublin Zoo for our C.S.P.E Action Project. It was both an educational & enjoyable trip.
Archery
Congratulations to Rogan Cunningham, a 3rd year pupil who has recently become the U17 National Indoor Archery champion. A great achievement.
Seachtain na Gaeilge 2019
During the week, a great effort was made to promote Irish and everyone was given the opportunity to take part in both the activities that took place and learn more about Irish culture. It is always our aim to promote a positive attitude in the school in relation to both the Irish language and culture. Many events were organized during the week, a Dance Workshop, Quiz (winners pictured), Pop Up Gaeltacht, competitions and lots more.
TY Update
The TY programme continues to keep our pupils very busy. In the last month they have completed their First Aid training, they went out on their 2nd week of work experience, had mock interviews, undertook driving lessons, partook in two collaborative projects with other schools, undertook several projects in school, played volleyball matches, did Yoga, are preparing to go on their London trip and are also fulfilling a full timetable of school work!