Results
Best of luck to the class of 2019, receiving their results today.
Results are available in the school on the morning of August 13th and are available online at https://www.examinations.ie/candidate-portal/ from 10 a.m.
If you do not register you will NOT be able to access the range of online services available on the portal. The application to view scripts; the viewing of scripts marked online, the appeal application and the appeal results services are being provided exclusively online this year.
Here are the key dates for candidates for this year: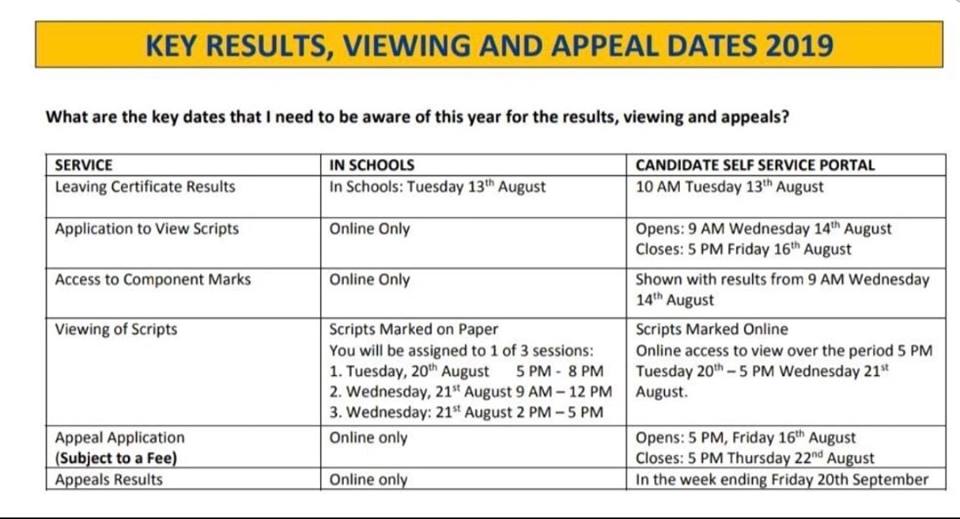 Below are some links and phone numbers that may be helpful in the coming days:
Points Calculator
https://careersportal.ie/courses/calculator/pointsCalculator.html#/
Leaving Certificate Helpline
The Helpline is provided courtesy of the National Parents' Council in association with the Irish Independent, the Dept. of Education & Skills and supported by the GAA. The Institute of Guidance Counsellors are employed to provide qualified guidance counsellors to give advice and support to both students and their parents.
Helpline Phone Number: 1800 265 165
Email: helpline@npcpp.ie